In May of 2020, the chamber invited a group of local restaurateurs to participate in a Zoom call to discuss the struggles facing their industry as a result of the COVID-19 pandemic and shutdown.
What began as a one-time meeting soon became a weekly conversation now known as the Charles River Dining Collaborative. Discussing resources, operational challenges, bouncing ideas, coordinating marketing campaigns, strategizing advocacy to local government regarding policies, fees and regulations, or often just providing a safe space to vent – the collaborative emerged (and continues) as a powerful platform for restauranteurs to connect and work together to keep their doors open and our economy strong.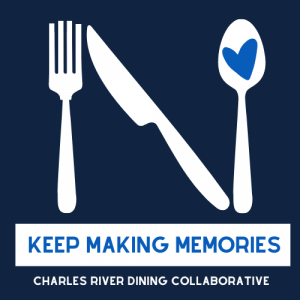 The Charles River Dining Collaborative is open to any local restaurant that is a member of the Charles River Regional Chamber. If you are not yet a member but would like to check out a meeting (every other Tuesday at 9 a.m. via Zoom), we are always welcoming of guests. Contact info@charlesriverchamber.com for more information or to be added to our communication list.
The chamber's Dine Local Initiatives are supported by: